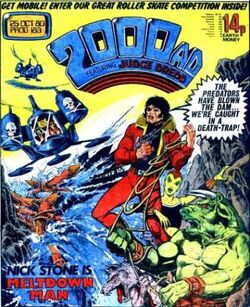 Alan A. Hebden was born in Bristol on 5 May 1950, the son of comics writer and army major Eric Hebden. After dropping out of university he followed his father into the comics business, and had a particular talent for writing cliffhanger serials. He started out with scripts for Commando, Victor and Hornet, then wrote for Battle Picture Weekly in the mid-1970s, scripting about half of all published episodes of "Rat Pack", and creating "Major Eazy" and "El Mestizo" with Carlos Ezquerra, "Fighting Mann" with Cam Kennedy, and "The General Dies at Dawn" with John Cooper. For 2000 AD he wrote lots of "Future Shocks" and other one offs, sometimes under the pseudonym "Ben Haldean", and episodes of "M.A.C.H. 1", but is best remembered for "Meltdown Man", a 50-part serial set in a world of genetically-engineered animal people, drawn by Massimo Belardinelli. Also with Belardinelli, he created "The Angry Planet" for Tornado. He wrote "Mind Wars", drawn by Jesus Redondo, and "Holocaust", drawn by Horacio Lalia, for Starlord. For the revived Eagle he wrote "The Tower King" and "The Fifth Horseman", both drawn by José Ortiz, and the reader-suggested strip "The Amstor Computer". He continues to write scripts for Commando, of which he has written 286 scripts so far which include 30 Convict Commando strips so far.
References
Edit
Alan Hebden Speaks Out!, Captain Hurricane's Best of Battle, 20 March 2010
J. P. Rutter, "The Man Behind the Major", Major Eazy: Heart of Iron, Titan Books 2012
Susan L. Hebden (Alan's sister), personal communication
Community content is available under
CC-BY-SA
unless otherwise noted.