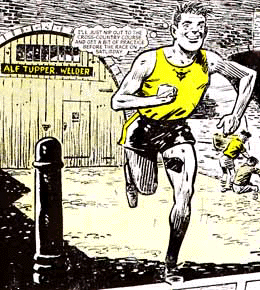 Frederick Alan Philpott was born in Lewisham, London, on 28 July 1916, son of Frederick James Philpott and his wife Florence Mary, née Gasson. When he left school he took evening classes at the Sir John Cass School of Arts and Crafts, and later at Woolwich Polytechnic.
His first work in comics was "Deerfoot the White Indian" in the Mickey Mouse Christmas Special in 1939. Shortly afterwards he joined up with RAF as a wireless operator/air gunner, but he was the only survivor of a collision of two loaded bombers on the runway. After treatment in Karachi for severe burns, he was sent to Delhi Air Headquarters Training Command to draw Japanese aircraft for recognition training.
He returned to England after the war and resumed his career as a comics artist, drawing for small publishers Amex, including adaptations of Shakespeare's Julius Caesar, Henry V and Macbeth for Classic in Pictures, and A. Soloway. He went on to get work with the Amalgamated Press, mainly adaptations of popular western films for Film Fun.
In 1952 he co-created Robot Archie with writer Ted Cowan for the AP's new weekly, Lion. He drew "Rebels of Ancient Rome" for the same title. Also in the 1950s, he drew John Steel stories for Super Detective Library, and Kit Carson and Buck Jones stories for Cowboy Comics Library.
From the 1960s on he mainly drew for DC Thomson, including "The Deathless Men" (1966-80) in The Hornet and The Hotspur, "The Tough of the Track" for The Victor, and war stories for Warlord and Commando. He also had work published in Look-In and the AP's War Picture Library. He died in Yeovil, Somerset, in the third quarter of 1997.
References
Edit
Alan Clark, Dictionary of British Comic Artists, Writers and Editors, The British Library, 1998, pp. 135-136
Dennis Gifford, Encyclopedia of Comic Characters, Longman, 1987, p. 61
Community content is available under
CC-BY-SA
unless otherwise noted.