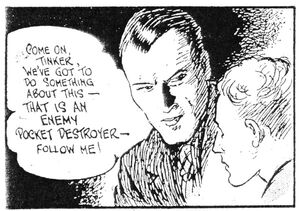 Alfred Herbert Taylor was born on 31 December 1889 in Timperley, Cheshire, the son of Charles Taylor, a railway clerk, and his wife Agnes. As a young man he worked as a pattern designer in textile printing. During the First World War he served as a stretcher bearer, and when stationed in Egypt he saw some of his designs on sale as the work of local designers. He also served in Russia. During the Second World War he worked as a signwriter.
He drew "Sexton Blake" for Knock-Out from 1939 to 1948. He also drew "Secret of the Sphinx" for Big Chief Comic (194?), "Down Paradise Alley" for Smasher Comic (1947), "White Goddess of Cloud Lands" for Big Game Comic (1948) and "Tales of the Odyssey" for Boomerang Comic (1948), and after that specialised in lettering, working for Thriller Picture Library, June and School Friend, Bunty, Valiant, Look and Learn and many other titles.
He also drew cartoons for Punch, Gaiety, The Humorist, Bystander and The Passing Show, and illustrations for the story paper Joy. He lived in Mitcham in Greater London before moving to Barnham, Sussex. He died in Chichester, Sussex, in the first quarter of 1971.
References
Edit
Community content is available under
CC-BY-SA
unless otherwise noted.