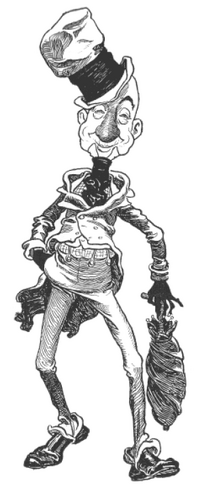 Ally Sloper was created by C. H. Ross and first appeared in Judy, or the London Serio-Comic Journal in 1867 in a strip called "Some of the Mysteries of Loan and Discount" and featured Alexander "Ally" Sloper and his friend Ikey Mo, a pair of working-class ne'er-do-wells. The characters soon became regulars, and were joined by Ally's wife, Mrs Sloper, his son, The Boy Sloper, and his daughter Tootsie Sloper, and friends including the Hon. Billy, Lord Bobs, Dook Snook, Uncle Boffin, Aunt Geeser, Lardi Longsox and Nellie Hickiks.
After two years, Ross was made editor of the magazine, and he handed over drawing Ally Sloper to Emilie de Tessier, who signed her work Marie Duval. Judy was taken over by Gilbert Dalziel in 1872. A 216-page paperback collection of Sloper strips from Judy, Ally Sloper: A Moral Lesson, was published in 1873, and further collections - including Ally Sloper's Book of Beauty (1877), Ally Sloper's Guide to the Paris Exhibition (1878) and The Ups and Downs of Ally Sloper (1882) - followed.
Ross sold Dalziel the rights to Sloper in 1883, and Dalziel launched a new weekly, Ally Sloper's Half Holiday, in 1884, without Ross or de Tessier's involvement. W. G. Baxter drew the character from issue 13, and W. F. Thomas took over after Baxter's death in 1888. The Sloper of the Half Holiday was gentrified, although still retained traces of his working-class rogue past, and gained the soubriquet "F.O.M" ("Friend of Man"). The magazine also featured prose stories, cartoons, and other strips. a double-sized Christmas special, Ally Sloper's Christmas Holidays, was published every year. The Half Holiday ceased publication in 1916 after 1,679 issues. It was later revived between 5 November 1922 and 14 April 1923, again from 1948 to 1949, and finally from 1976 to 1977, each attempt failing to capture the imagination of the British public as the original once had.
Denis Gifford published a fanzine entitled Ally Sloper in 1976-77, reprinting early comics combined with new material, seeking to ensure a modern readership had an awareness of early comic history, which only lasted four issues. He also initiated the Ally Sloper Prize in 1976.
References
[
]