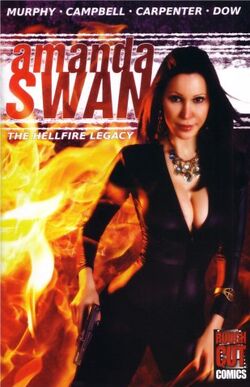 Amanda Swan is a comic published by Rough Cut Comics in 2012. Currently, one issue is available, entitled The Hellfire Legacy; a sequel, The Evil that Men Do, has been announced.
The comic stars a heavily fictionalised version of the actress and model Amanda Swan. Swan is portayed as a vigilante assassin who balances her career with a battle against political corruption by night. Her main target is the Anglo-Parallax Corporation, an organisation with its roots in the Hellfire Club of the nineteenth century. As the story progresses, Amanda Swan is revealed to have seemingly supernatural attributes.
The Hellfire Legacy was written by Ed Murphy and Tom Campbell, drawn by Joel Carpenter, coloured by Derek Dow and lettered by Dom Regan.