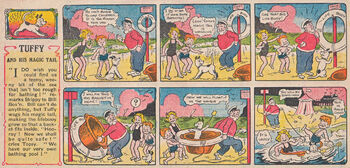 Arnold Henry F. Warden[1] was born in Prestwich, Lancashire, in the third quarter of 1892, son of Arnold Henry Warden senior, who died before he was born, and his wife Alice, née Heywood. His aunt, Sarah Jane Heywood, was a teacher of painting. By 1911, at the age of 18, Arnold was apprenticed to a designer.
From the late 1930s he drew for the Amalgamated Press' nursery comics, in a style similar to Freddie Crompton, for whom he sometimes ghosted. Strips he drew included "Snowdrop's Zoo" (1938-55) and "Tuffy and his Magic Tail" (1939-55) for Playbox, and "Sunshine Farm" (1940) for The Chicks' Own. He would have retired around 1957. He died in Cheshire in the second quarter of 1963.
↑

Clark gives his name as "Walden", but Gifford and Stringer say "Warden", and the only man of either name whose dates fit is called "Warden".
Alan Clarke, Dictionary of British Comic Artists, Writers and Editors, The British Library, 1998, p. 175
Denis Gifford, Encyclopedia of Comic Characters, Longman, 1987
Lew Stringer, Seaside Fun, Blimey!, It's Another Blog About Comics!, 8 August 2011
Community content is available under
CC-BY-SA
unless otherwise noted.