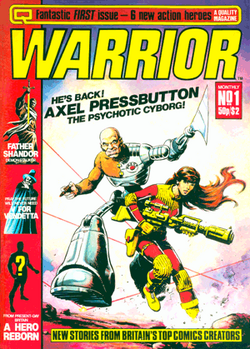 Axel Pressbutton is a character who first appeared in the strip "Three-Eyes McGurk and his Death Planet Commandos" in the rock music magazine Dark Star in 1979. A violent cyborg with the face of Ernest Borgnine, a cleaver for a left hand, a button on his chest which delivers orgasmic pleasure when pressed and a phobia about vegetation, he was created by Steve Moore (under the pseudonym "Pedro Henry") and Alan Moore (no relation, under the pseudonym "Curt Vile"). He later appeared in the pair's strip "The Stars my Degradation" in Sounds magazine.
Warrior, launched in 1982, featured "Laser Eraser and Pressbutton", in which Axel was teamed with clone assassin Mysta Mistralis, written by Steve Moore (again as Pedro Henry) and drawn primarily by Steve Dillon, with some stories illustrated by Mick Austin and Steve Jackson. One of these stories revealed his origin. Originally a mild-mannered florist, he was rebuilt after being partially eaten by a sentient telepathic fungus, leaving him with a violent aversion to plants. After Warrior closed in 1985, Axel got his own title from Eclipse Comics in the USA, containing original stories as well as reprints from Warrior.
References
Edit
Online reference
Edit
Community content is available under
CC-BY-SA
unless otherwise noted.