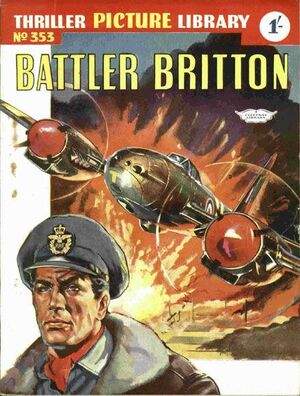 Wing Commander Robert Hereward "Battler" Britton, a World War II Spitfire pilot billed as "the fighting ace of land, sea and air", was created by writer Mike Butterworth and artist Geoff Campion, although editor Leonard Matthews supplied his name, and first appeared in The Sun in January 1956. He became the front cover star in 1958, and in 1959 The Sun was briefly renamed Battler Britton's Own Weekly, before merging into Lion. The character next appeared in Knock-Out in 1960-61, again on the cover. After that he became one of the mainstays of Thriller Picture Library, Air Ace Picture Library and War Picture Library, drawn by numerous artists, including Hugo Pratt, Francisco Solano Lopez, Ian Kennedy, Pat Nicolle and Graham Coton.
He was one of the characters acquired from Egmont by DC Comics, and in 2006 they published a 5-part Battler Britton miniseries through their Wildstorm imprint, written by Garth Ennis and drawn by Colin Wilson.
Community content is available under
CC-BY-SA
unless otherwise noted.