Jurassic World: Dominion Dominates Fandom Wikis - The Loop
Play Sound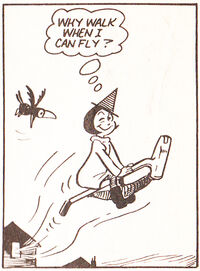 "Bewitched Belinda" was a strip that first appeared in the 17 November 1979 issue of Whizzer and Chips. It was drawn by Reg Parlett.[1]
The main character was a young witch in the vein of Sabrina and Wendy, while the name of the strip appeared to be a nod to the popular American comedy sitcom Bewitched. Like Bewitched, the strip was about witches living in a modern city.
Belinda was a good-natured adolescent sorceress who used her powers to help people, such as other children against bullies, employers with slave-driving bosses or pets lost by their owners. Belinda used rhymes to cast her magic spells, such as:
Little creature made of plastic,
Become a monster quite fantastic!
when turning a small plastic toy into a huge monster as a joke, or
On your own, shine and clean
Sparkle-up this dirty scene!
in order to get hoovers, brooms and dusters to do the housework.
Belinda lived with her mum who, although a witch herself, wanted to live a normal life without magic and tried to encourage her daughter to do the same — with little success since Belinda found magic too useful to do without.
Another relative was the middle-aged Aunt Het who, like Belinda, used her powers to help people but always got her spells wrong, causing chaos and confusion and leaving Belinda to pick up the pieces and restore order (in a way similar to Aunt Clara and Samantha in Bewitched): when she tried to conjure up a saucer of milk for some cats, Aunt Het turned herself into a cat instead by mistake, but Belinda soon got her back to normal.
References
[
]