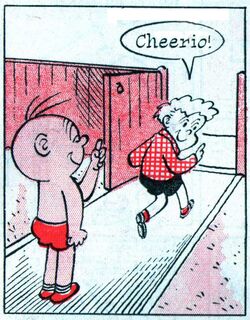 William (Bill or Willie) Ritchie (b. 1 August 1931; d. 25 January 2010) was born in Glasgow and attended Glasgow School of Art. He was a competitive speedway cyclist in the late 1940s, helping to found the sport in Scotland and competing in the first cycle speedway international against England in May 1949, at Rayleigh, Essex.
He learned cartooning from local artists like Jack Lindsay, Bud Neill, Harry Smith, Bill Tait and Jimmy Malcolm. He did his national service in the Military Police in Korea, after which Malcolm suggested he submit his work to DC Thomson. He joined them as a staff artist, beginning with cartoons in the Weekly News. He went on to draw strips including "Clumsy Claude" (1955-) and "Sweet Sue" in The Beano, "Baby Crockett" in both The Beezer (1956-86) and Bimbo (1961-76) , "Dicky Burd", "Hungry Hoss", "Smiffy" (1967-88) and "Hairy Dan, Football Fan" (1972-81) in The Beezer, "Barney Bulldog" and "The Moonsters" in The Sparky, "Supporting Life" in Plug, "Toots" in Bunty (1956-86), and "The Cat Street Kids" in The Hotspur. He also drew for Twinkle. He retired from comics in the 1990s, but continued to draw spot cartoons, book illustrations, and a weekly strip for a German magazine.
He married Anne Wynd in 1959, and they had three children. They lived in Carnoustie for many years, later moving to Friockheim, Angus, where he died at the age of 78.
References
[
]
Online reference
[
]