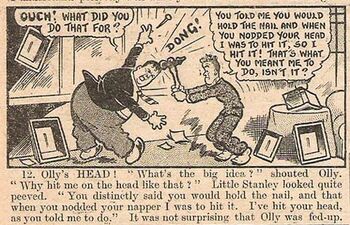 George William "Bill" Wakefield was born in Hoxton, London, on 13 November 1887 the son of a decorator. After leaving school he got a scholarship to the Camberwell School of Arts and Crafts. He was a part-time boxer, participating in exhibition matches at fairs and other events. He also started selling cartoons to the weekly comics, starting with Ally Sloper's Half Holiday in 1906, and his work appeared regularly in James Henderson & Sons publications like Scraps from 1907. His early work included "Baron De Cuff and the Hon. Samuel Shiney" in The Comic Companion, a supplement to You and I magazine.
He soon got work with the Amalgamated Press, illustrating prose serials like "John Flood the River Tracker" (1912) for The Penny Wonder and Charles Hamilton's "Rookwood" for The Boy's Friend, and drawing comic strips including "Gertie Goodsort" (1911) for Fun and Fiction, "Flossie and Phyllis" (1914) for The Favourite Comic, and numerous strips for Merry and Bright, where he showed his ability to caricature celebrities. During the First World War he served with the Sixth City of London Regiment.
When Fred Cordwell launched Film Fun in 1920, he recruited Wakefield to draw for it, which he did for over twenty years, illustrating strips including "Babe Marie Osborne" (1920), "Jackie Coogan" (1921), "Wesley Barry" (1924), "Grock the Clown" (1929), "Laurel and Hardy" (1930), "Joe E. Brown" (1933), "Wheeler and Woolsey" (1934), "Max Miller" (1938), "George Formby" (1938) and "Lupino Lane" (1939). He also drew strips for Kinema Comic, including "Fatty Arbuckle" (1920), "Ford Sterling" (1920), "Larry Semon" (1923) and "Walter Forde" (1930), and Sports Fun, and provided illustrations for Film Picture Stories (1934-35), The Bullseye (1931) and The Surprise (1932). Other comic strips he drew include "The Jolly Rover" (1928-) for My Favourite, "Sandy and Dusty" (1928-32) for Jester, and "Freddie Flip and Uncle Bunkle" (1935-) for Sparkler.
His son Terry followed in his footsteps, assisting his father before becoming a comics artist in his own right for the AP as a teenager in the 1920s. Bill Wakefield died on 12 May 1942, aged 54, after a stroke.
References
[
]
Alan Clark, Dictionary of British Comic Artists, Writers and Editors, The British Library, 1998, p. 173-174
Denis Gifford, Encyclopedia of Comic Characters, Longman, 1987
Online reference
[
]