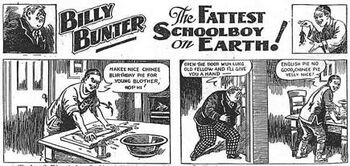 Billy Bunter, the rotund boarder at Greyfriars school, was created by Charles Hamilton, under the pen-name Frank Richards, and first appeared in the story paper The Magnet in 1908. He appeared in all but 13 of The Magnet's 1683 issues between then and 1940. Hamilton went on to write a series of Bunter novels from 1947 until his death in 1961.
Many of his stories in The Magnet had been illustrated by C. H. Chapman, and when the character was transferred to comics in the pages of Knock-Out in 1940, Chapman drew the first few stories. Several other artists followed but none stuck until Frank Minnitt, who drew the strip until 1958. Eric Roberts, Albert Pease, and finally Reg Parlett succeeded him until 1963, when Knock-Out was cancelled. Bunter also appeared in The Comet from 1950 to 1958, with some strips in 1956 drawn by Chapman. He also later appeared in Valiant (1963-76), where his adventures were written by Nobby Clark, and TV Comic. His sister, Bessie Bunter, appeared in The Schoolgirl and June.
References
Edit
Online reference
Edit
Community content is available under
CC-BY-SA
unless otherwise noted.