Biomecha is an intermittently-published comic by Laura Watton that combines science fiction with romantic comedy. Launched in 1995, it was one of the earliest British comics to be inspired by Japanese manga.
Story
[
]
Taking place in the year 2025, Biomecha revolves around Toshio Takeya, a boy who lost his arms in an accident and was given a pair of super-strong mechanical replacements by an android specialist. Unfortunately, he finds himself unable to control his incredible strength and so enrols at the the All-Purpose Cybertechnik Hi-School, an educational institution for youngsters with superpowers, in the hopes of finding help with his problem.
Here he meets Phyllis Fernandez; Jo Flanagan, blind but able to read minds; and Reiko Kikuchi, who has no powers and was only accepted into the school by mistake. Toshio falls in love with Reiko - but can he ever touch her without hurting her?
Publication history
[
]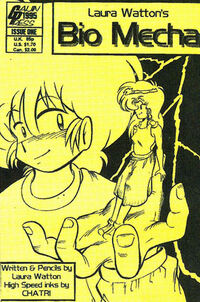 Laura Watton was fourteen years old when she started work on Biomecha,[1] and self-published the first three issues in 1995.
Watton went on to create a fourth issue, but was unhappy with the results and so started again from scratch. The reworked version of issue 4 was eventually published in 1998; the original version also saw publication the following year, billed as a "party special" and numbered 3½.[2] A special, entitled Biomecha: Colour, was published in 1999.
In 2001 Watton became one of the founding members of Sweatdrop Studios and publication of Biomecha continued under the Sweatdrop banner. The same year Watton made another special, Biomecha: Thought.
Issue 5 was published in 2002, issue 6 in 2006,[3] issue 7 in 2009[4] and issue 8 in 2010.[5] Watton also put together a free special called Biomecha - Intro to help attract new readers, and in 2005 compiled a trade paperback - Biomecha Book 1 - that collected issues 1-4 along with issue 3½, Colour, Thought and various bits of fanart and promotional material. By this time Watton had already decided to end the series with issue 10.
In 2010 Watton left Sweatdrop[6] but is still planning to conclude the series outside of the group.[7]
References
[
]