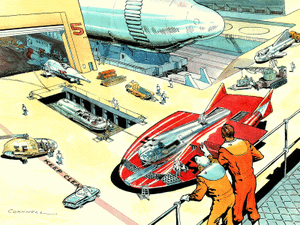 Arthur Bruce Cornwell was born in Canada in 1920, son of Arthur Redfern Cornwell, an English architect and draughtsman, and his Scottish wife Margaret, and raised in the United States. He studied at Regent Street Polytechnic in London and the Académie Julian in Paris, and served in the Merchant Navy during the Second World War.
In the late 1940s he was working as a magazine and technical illustrator when he responded to an ad that turned out to be for the Eagle. He joined Frank Hampson's studio to work on Dan Dare, specialising in technical matters such as buildings, machinery and spaceships. He objected to the long working hours Hampson demanded of his assistants, and left during the first storyline. He returned in 1953, at Hampson's request, to replace Eric Eden, who had been sacked for objecting to the same heavy workload. The work again became too much for him and began affecting his health, and he quit again when Hampson refused him some time off. He returned again in 1960, after Hampson's studio had been disbanded, assisting Don Harley from scripts by Eden, until 1962. He also created illustrations, including cutaways of spaceships, for Dan Dare annuals, and was the model for the villain Dr. Blasco.
Other contributions he made to the Eagle include "Ships Through the Ages" and cutaway illustrations on nautical subjects, as well as "Tommy Walls" advertising strips. He drew "Sammy in Space", with Desmond Walduck, for Swift, "Space Captain Jim Stalwart" for the Junior Mirror, "Danny Dare", with Leo Baxendale, for Wham!, "Journey into Space", taking over from Ferdinando Tacconi, for Express Weekly, and strips for The Dalek Book (1964) and The Dalek World (1965). He also worked in book illustration, advertising and commercial art. In later years his work appeared in Spaceship Away. He died on 2 March 2012.
References
[
]
Daniel Tatarksy, Dan Dare: The Biography, Orion Books, 2010
Jeremy Briggs, In Memoriam - Bruce Cornwell, Down the Tubes, 4 March 2012
A. Bruce Cornwell - obituary, Eagle Times, 5 March 2012
Steve Holland, Bruce Cornwell (1920-2012), Bear Alley, 6 March 2012