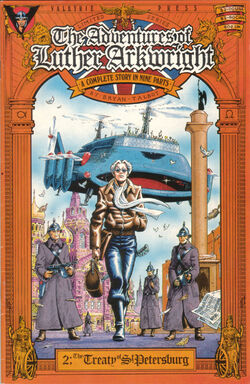 Bryan Talbot (b. Wigan, Lancashire, 1952) is a comics writer-artist and the creator of the ground-breaking graphic novel The Adventures of Luther Arkwright.
After publishing his work in fanzines and student newspapers in the 1960s, he created the underground comic Brainstorm Comix in the mid-1970s, the first three issues of which formed the "Chester P. Hackenbush Trilogy". Brainstorm Comix also featured "The Papist Affair", starring Jerry-Cornelius-inspired hero Luther Arkwright and a gang of biker nuns recovering the sacred relics of St. Adolf from some male chauvinist priests.
Beginning in 1978, he reworked the character and gradually created The Adventures of Luther Arkwright, a serious, complex, adult science fiction graphic novel involving multiple parallel universes, conceived at a time when such things were virtually unheard of, particularly in the UK. The early episodes appeared in "ground level" anthologies Near Myths and pssst!. In 1982 he took a break from Arkwright to draw "Nemesis the Warlock" for 2000 AD, taking over from Kevin O'Neill, returning to his major work in 1987. The complete story, including the material already published, was serialised as a nine issue series from Valkyrie Press, completed in 1989. It was later published by Dark Horse Comics in the USA.
In 1994 he began another graphic novel, The Tale of One Bad Rat, published by Dark Horse, in which a teenage girl, inspired by the life and work of Beatrix Potter and the landscape of the Lake District, comes to terms with sexual abuse. His next major work, Heart of Empire (1999), was a sequel to The Adventures of Luther Arkwright, featuring Arkwright's daughter Victoria, a princess in a neo-Elizabethan alternative London, also with Dark Horse. In 2006 he published Metronome, a wordless graphic novel about sex and domestic violence, drawn in a radically different style, under the pseudonym Véronique Tanaka, with US publisher NBM.
Alice in Sunderland, a graphic novel exploring the history of his adopted home town, in particular its links to Lewis Carroll, followed from Jonathan Cape in 2007, for which he was awarded an honorary doctorate by the University of Sunderland. In 2009 Jonathan Cape published Grandeville, a steampunk adventure featuring anthromorphic animal characters in an alternative 19th century in which France won the Napoleonic Wars, inspired by the work of French illustrator J. J. Grandeville. A sequel, Grandeville Mon Amour, is in the works.
External links
[
]
Online reference
[
]