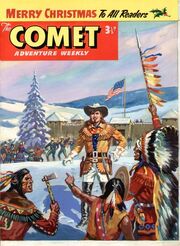 William Frederick "Buffalo Bill" Cody (February 26, 1846 - Janury 10, 1917) was an American showman known for his travelling cowboy-themed shows and for his real-life exploits in the old American West.
Even during his lifetime Buffalo Bill was used in fiction: the first dime novel about him, Ned Buntline's Buffalo Bill, the King of the Border Men, was published in 1869 and was followed by hundreds more.[1]
Fictionalised accounts of Buffalo Bill's adventures, including comics, continued long after his death; as he is a public domain character many different publishers have got in on the act. He was a prominent character in Comet (in which his strips were drawn by Eric Bradbury, Geoff Campion, Colin Merrett and others) and also occasionally starred in issues of Cowboy Comics.
Other British comics which contained "Buffalo Bill" strips include Knock-Out, drawn by C. L. Doughty; Butterfly, drawn by G. William Backhouse and Ned Buntline; Swift;[2] and Whizzer and Chips.
References
[
]
External links
[
]