Jurassic World: Dominion Dominates Fandom Wikis - The Loop
Play Sound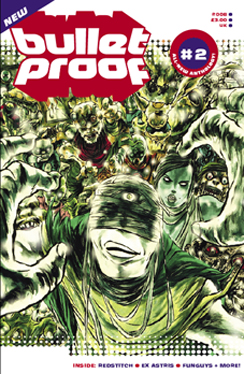 Bulletproof was a shortlived anthology published by Bulletproof Comics in 2008.
At one point scheduled to launch in 2003[1] Bulletproof actually appeared five years later and lasted for two issues, published in April[2] and October of 2008,[3] although issue 1 is dated 2007. In addition each of these was released alongside a 12-page abridged version for distribution in conventions; these were numbered 0 and ½.
A third issue was completed,[4] with a cover and preview pages posted online, but its scheduled date slipped from sometime in 2008[5] to March 2009.[6] In the end, neither it nor an announced fourth issue ever materialised at all.
The anthology appears to have been conceived at least in part as a testing ground for properties to be published by the company: the strips "Redstitch" and "Marren Kane" were set to be expanded into a four-issue miniseries and a series of one-shots respectively[7][8] but all that came of these was a twelve-page preview issue (again numbered 0) of Marren Kane.
A few of the strips did continue after the anthology's demise, however. "Ex Astris" went on to appear in Spaceship Away,[9] "The Funguys" migrated to Wasted and "Armageddon Patrol" was published as a graphic novel.
Strips
[
]
Issue 1
"

Occultus

" by

Nigel Kitching

and

David Hankin

"

Snowstorm

" by

Paul H Birch

,

Michael Perkins

,

Garen Ewing

and

John Robbins

"

Armageddon Patrol

" by

John A Short

and

Simon Ecob

"

Magpie

" by

Nigel Kitching

and

Nigel Dobbyn

"

Funguys

" by Alan Grant and

Alan Burrows

"

Travelling Light

" by

Paul H Birch

and

John Royle

"

Out of the Box

" by

Chris Bunting

and

Kit Wallis

"

Mumble & Beep

" by

Mark Daniels

"

Sideburns

" by Jim Alexander and

Jon Haward

"

Redstitch

" preview by

Lee Langford

,

Klaus Belarski

and

Ellie Deville
Issue 2
"

Marren Kane

" by

Dave Hailwood

and

Tony Suleri

"

Sideburns

" by Jim Alexander and

Jon Haward

"

Bunkmates

" by

Dave Hailwood

and

Paul Harrison-Davies

"

Game Over

" by

Bulent Yusuf

and

David Thornton

"

Funguys

" by Alan Grant and

Alan Burrows

"

Last Orders

" by

Dave Hailwood

and

Stuart Giddings

"

Redstitch

" text story by

Lee Langford

and

Klaus Belarski

"

Ex Astris

" by

John Freeman

and

Mike Nicoll

"

Love Hurts

" by

Dave Hailwood

and

Stuart Giddings

"

Slumbertown

" by

Rik Hoskin

and

Thomas Crielly

,

John Doran
Issue 3
"

Marren Kane

" by

Dave Hailwood

and

Tony Suleri

"Switchblade" by

Paul H Birch

,

Alan Burrows

and

Steve Harrison

"Technofear" by

Dave Hailwood

and

Tony Suleri

"Cross in Hidden Dangers" by

John A Short

and

Jason Dennis

"The One Eyed Wench" by

Dave Hailwood

and

Dave Thompson

"Simba Khan" by

Paul H Birch

and

Jon Haward
References
[
]