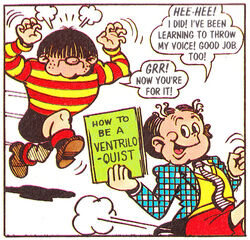 "Bully Beef and Chips" is a strip that ran in The Dandy. Beefy was a bully, Chips was his victim. The strip first appeared in 1967, replacing Big Head & Thick Head.
Jimmy Hughes was the initial artist. He drew Bully Beef and Chips for the first twenty-five years. Aside from the earliest strips his style never really changed, the biggest change occuring in the late 1980s when Beefy's hair-style was changed so that his eyes could be seen.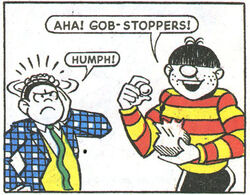 Jimmy Hughes stopped drawing Bully Beef and Chips in 1993 and the job was given to Gordon Bell, who was also drawing the Bully Beef Comic Libraries around this time. (It had previously been Nigel Parkinson). Bell's tenure as the Bully Beef artist did not last long and by November that year Sid Burgon became the artist, and continued to draw the strip for four more years. Around this time the storylines began to change somewhat. Chips was still considered as the more intelligent one and favoured brains over brawn, but many strips involved the two having a punch-up, and sometimes Chips' slightly revised personality would get the better of him, meaning Beefy would come out on top on occasion.
The strip ceased its original run in 1997, but it appeared in a few issues of The Dandy Xtreme, and after The Dandy's revamp in October 2010 the characters have occasionally made cameo appearences. The strip eventually made a proper return in May 2012, now drawn by Wayne Thompson.[1]
References
Edit
Community content is available under
CC-BY-SA
unless otherwise noted.