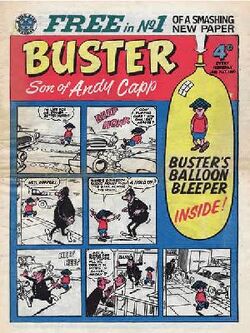 Buster was a weekly comic published by Fleetway, later IPC, later Fleetway again. It was launched on 28 May 1960. It absorbed Radio Fun (1961), Film Fun (1962), The Big One (1965), Giggle (1968), Jet (1971), Cor!! (1974), Monster Fun (1976), Jackpot (1982), School Fun (1984), Nipper (1987), Oink (1987) and Whizzer and Chips (1990), and was finally cancelled on 4 January 2000.
It started out as a misture of humour and adventure strips, although humour came to predominate over the years. The lead strip was "Buster" himself, originally billed as Andy Capp's son, although that connection was largely forgotten by the mid-1960s.
Other strips included
Imported from Radio FunEdit
Imported from JetEdit
Imported from Cor!!Edit
Imported from Monster FunEdit
Imported from JackpotEdit
Imported from School FunEdit
Imported from NipperEdit
Imported from OinkEdit
Imported from Whizzer and ChipsEdit

A Swedish edition of Buster was published from 1967 to 2005. At first, most of the material was taken from the UK edition, but as time went on the magazine produced more and more original material, mostly on a sporting theme.
External links
Edit
Online reference
Edit
External links
Edit
Community content is available under
CC-BY-SA
unless otherwise noted.