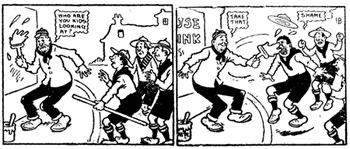 Charles Ernest Genge was born in Hackney, London, in the second quarter of 1874. He studied at the Académie Julienne in Paris under Jean Paul Laurens, and exhibited widely in France and England. He was a founder of the Bethnal Green Working Men's Institute and a leader of the British post-impressionist movement. He also drew for early British comic weeklies. Strips he drew included:
His work also appeared in Monster Penny Comic, Happy Comic and Tip Top Comic in the 1920s.
He died in Surrey in the fourth quarter of 1958, age 84.
References
[
]
Online reference
[
]