Jurassic World: Dominion Dominates Fandom Wikis - The Loop
Play Sound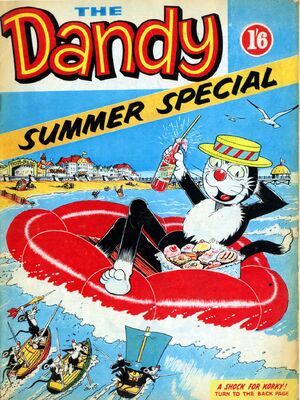 Charles Grigg was born in the English midlands on 23 November 1916.
He left school at 14 and became an apprentice woodworker at the Birmingham Railway Carriage and Wagon Co. He later worked worked as a toolmaker in a Black Country factory, while drawing cartoons for the Oldbury Weekly News. In 1940 he married Margery Wilden, and they had two children.
The editor of the Oldbury Weekly News showed his work to an agency in London, and in late 1950 he was invited to an interview in London. This turned out to be with R. D. Low and Albert Barnes of DC Thomson, who offered him work. He gave up his job at the factory and went freelance in early 1951.
He began with "Sooty and his Shooter" (1951) for The Dandy, then "Kat and Kanary" (1952-57) for The Beano and "Foxy" (1953-75) for The Topper.
He was most associated with The Dandy, drawing "Mary's Mighty Uncle" (1953), "Gobble Gobble Gertie" (1954), "Clanky the Cast-Iron Pup" (1955), "Kipper the Copper" (1956) and "Charlie the Chimp" (1957-60) for The Dandy. In late 1961 Jimmy Crighton, the regular artist of "Korky the Cat" on The Dandy's cover, was taken ill, and Grigg was asked to cover for him. In the event, Crighton died in early 1962, and Grigg drew Korky from then until 1987. He diversified into adventure strips, drawing "The Umbrella Men" (1965-67), "The Red Wrecker" (1966) and "The Purple Cloud" (1969). He took over "Desperate Dan" after the death of Dudley D. Watkins in 1969, drawing the character in Summer Specials and annuals until 1984.
Other strips he drew included "Prince Whoopee" (1955-58) for The Beano, and "Splodge, Last of the Goblins" (1969-74), "Willy Nilly", and "Shorty Shambles" for The Topper. He retired from weekly comics in the 1980s, after which he drew saucy postcards for Bamforth, signing them "Chas". He died in Halesowen on 4 December 2013, at the age of 97, having suffered from vascular dementia for several years.
References
[
]
Alan Clark, Dictionary of British Comic Artists, Writers and Editors, The British Library, 1998, pp. 67-68
Denis Gifford, Encyclopedia of Comic Characters, Longman, 1987
Justine Halifax, "Charles Grigg's 22 years as cartoonist for The Dandy comic", Birmingham Post, 30 November 2012
Lew Stringer, Charles Grigg (1916-2013), Blimey! It's Another Blog About Comics!, 4 December 2013
Online reference
[
]