---
Latest revision as of 12:26, 16 March 2014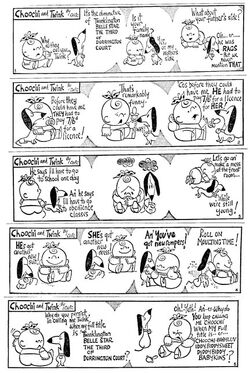 Cyril Alfred "Chic" Jacob was born in Dulwich, London, on 25 February 1926, son of William Charles Jacob, assistant publisher of the London Evening Star, and his wife Ethel, née Ashley. He was educated at Crofton Park Central School in Forest Hill, and was evacuated to Rotherfield in Sussex at the outbreak of the Second World War, where he worked on local farms. He served as a radar rating in the Royal Navy, mostly in South-East Asia, from 1944 to 47. After demobilisation he spent a few years working on farms.
In 1949 he moved to London, briefly working as a clerk for the Gas Board before joining the Daily Express in the circulation department. He drew cartoons in his spare time, selling his first to Everybody's magazine in 1950, and, represented by Ian Scott's Kingleo Studios, his work began to appear in various publications. In 1964 he was voted Topical Cartoonist of the Year by the Cartoonists' Club of Great Britain, and, after the Express's Financial Editor saw his work in Punch, he became the paper's financial cartoonist.
He also drew a series of pocket cartoons called "Chic-Feed", and drew the daily strip Choochi and Twink, written by Les Lilley, for which he was voted Humorous Strip Cartoonist of the Year by the CCGB in 1966. Jacob and Lilley also worked as freelance scriptwriters for TV, on the BBC deaf children's show Vision On and the ITV game show The Golden Shot, and radio, writing scripts for Dick Emery, Roy Hudd and Arthur Askey.
In 1973 Jacob moved to the Observer, where he drew the regular Pinstripe strip. When the paper merged with the Guardian in 1992, he was let go. He died at Rainham, Kent, on 6 September 2000.
References[]