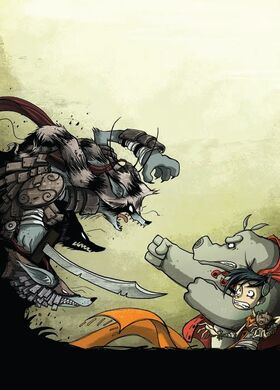 "Cogg and Sprokit"
is a humour-adventure serial which runs in UK comic,
The Phoenix
about two treasure hunters, the intelligent hippo, Cogg and his young, adventure-thirsty companion, Sprokit. Originally starting off as a
Feature Special
in Issue 4 - Cogg and Sprokit have also had two weekly story-arcs and once even had a puzzle page. Cogg and Sprokit is written and illustrated by
Jamie Littler
.
Cogg and Sprokit began in Issue 4 as a feature special and was also the cover for Issue 4. Cogg and Sprokit then returned in Issue 9 once again in a feature-special and claiming the cover. After Long Gone Don ended its first series due to Lorenzo Etherington becoming ill - Cogg and Sprokit replaced Don for five weeks telling the story of Cogg and Sprokit's encounter with Lupin Khan. Upon Long Gone Don's return in Issue 16, Cogg and Sprokit appeared instead as a feature-length telling the extended part to the previous story-arc about Cogg and Sprokit's getaway from Lupin Khan - this ultimately ending in the deaths of Khan and the Wolf Clan.
Cogg and Sprokit then appeared again in Issue 21 as one of two feature specials (the other begin The Graveyard) - once again, Cogg and Sprokit claimed the cover spot with Cogg sporting some cool goggles which he usually wears around his neck. Cogg and Sprokit's next appearance was in Issue 26 in which Sprokit brings home a talking head which claims to know the locations of all the treasures - after the talking head tells them the true treasure is their friendship together, the head is thrown into the sea by Cogg, this then results in an argument between them however by the end, they make up and fish for the talking head in moonlight.
Their next adventure is in Issue 31 where they do some paid work to capture the deadly Dragon Carving for Fei-Sim, Sprokit also buys some dragon fireworks from a firework seller who was apparently "a true gentleman" - after giving Fei-Sim the carving, it is then revealed Sim is going to use the carving for evil. After a full-action fight, Fei-Sim lights up the dragon carving in flames to unleash its power only to discover it is a firework. After a huge explosion, Cogg and Sprokit make it out alive whilst Fei-Sim is seemingly killed.
Cogg and Sprokit is currently running in The Phoenix in a new story-arc which began in Issue 35 where Cogg and Sprokit hear about the treasure-hunting competition to the Sapphire Sun located in the lost city. After the two have an argument, they split up and decide to find new treasure-hunting partners - Sprokit finding a violent bear called Ko, and Cogg finding the quick-thinking, adventurous Switch. The story-arc is still running currently.
Community content is available under
CC-BY-SA
unless otherwise noted.