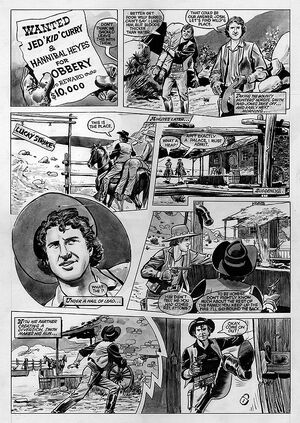 Colin Henderson Andrew was born in Dundee in 1933, and worked as a junior for Bill McCail's Mallard Features studio in Glasgow. He drew cartoons for Lilliput, and wrote and drew a strip about anthropomorphised steam trains for a local newspaper. After his national service, he joined the King-Ganteaume studio in London, and drew westerns and historical strips for L. Miller & Son titles like Pancho Villa, Rocky Mountain King and TV Heroes. After the studio broke up, he continued to work for Kenneth King, drawing for Lone Star and Space Ace.
He drew "Captain Morgan" for Zip in the late 1950s, and also drew for Disney's Mickey Mouse. In 1960 he became Sydney Jordan's assistant on Jeff Hawke in the Daily Express. He collaborated with Hawke writer Willie Patterson on two newspaper strips, one a history of the World Cup, the other on famous footballers, on "What is Exhibit X", a strip about a scientific investigator in Boys Word, and "The Guinea Pig" for Eagle. He aso drew "The Boy Who Knew Too Much" for Buster, "Tomorrow West" in Solo, "Fireball XL5" and "Stingray" for TV Century 21, "Alias Smith and Jones" for TV Action, "Stand and Deliver" for Eagle, and strips for Lion and Tiger. During the 1970s and 80s he concentrated on illustration, but he returned to comics in the 1990s, drawing for Doctor Who Magazine.
He died at the Royal Free Hospital in Hampstead in late February 2013.
Community content is available under
CC-BY-SA
unless otherwise noted.