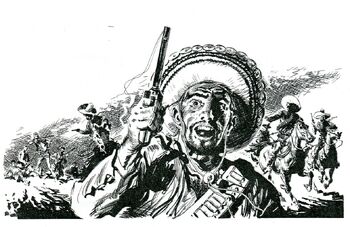 Colin Arthur Merrett was born in Croydon, Surrey, on 14 October 1914,[1] the son of Reginald Merrett, an insurance clerk, and his wife Nellie, née Bacon.
He started out drawing adventure strips for the Amalgamated Press in 1936. Pre-war work included "Chang the Yellow Pirate" (1936-39), "Red Sea Patrol" (1938) and "Chums of the Sea" (1939) for The Joker; "Chums of the E-Men Patrol" (1937), "The Three Daring Diamonds" (1938) and "Ace Pilot" (1939) for Illustrated Chips; and "Maid of the Desert" (1937) for Sparkler. He married Alice Deadman in Croydon in 1939, and they had a son, Robin, in 1944.
His work is nowhere to be found during the Second World War. After the war he drew for smaller publishers, including PM ("Red Hot" (1948) for Funny Comic, "The Outcast Kid" (1948) for Star Flash Comic, "Speeding Johhny" (1948) for Zip, "One Good Turn" (1948) for Look and Laugh, "Guardians of Space" (1949) for Full o' Fun, "Ray Speed" (1949) for Bob Comic, and "Flight Through Fire" (1949) for The Corker Comic) and Amex ("Kangy the Bush Boy" (1948-49) for Flash, "Treasure Island" and "Westward Ho!" (1949) for A Classic in Pictures). He also returned to the Amalgamated Press, writing and drawing "Paul Power and his Speed Shell" (1948-53) for Illustrated Chips.
In the early 1950s he contributed to the AP's "picture library" titles, including Cowboy Comics Library ("Buck Jones", "Billy the Kid, "The Kansas Kid", 1951-59), Thriller Picture Library ("The Outlaw Orphan", "Dick Turpin", "Battler Britton" 1952-57) and Super Detective Library, ("The Black Abbott", 1953). He also drew "Billy the Kid" (1954) for Sun, and "Buffalo Bill" (1955) and "Strongbow the Mohawk" (1956) for Comet.
In the 1960s and '70s he drew for Look and Learn, including an adaptation of Robinson Crusoe (1972), IPC's girls' titles, including "Surprise Corner" (1963-64) for Poppet and "Ross - Student Nurse" (1970) for Princess Tina, "Our Janie"(1971)for Tammy and boys' titles, including "Danny Jones - Time Traveller" (1965) for Hurricane. In the 1980s he found work with DC Thomson, drawing strips including "Belle of the Ball" for Bunty, and continued working into the 1990s. He died in Eastbourne, Sussex, in March 2005.
Footnotes
[
]
↑

Clark spells his name Merritt and gives his birthdate as 1912, but there's nothing corresponding in England and Wales BMD. Other sources offer Merrett as an alternative spelling, and the only Colin Merrett or Merritt in the chronological vicinity is this one, so I'm proceeding on the basis that this is our man. -PB
References
[
]
Alan Clark, Dictionary of British Comic Artists, Writers and Editors, The British Library, 1998, pp. 106-107
Denis Gifford, Encyclopedia of Comic Characters, Longman, 1987
Online reference
[
]
External links
[
]