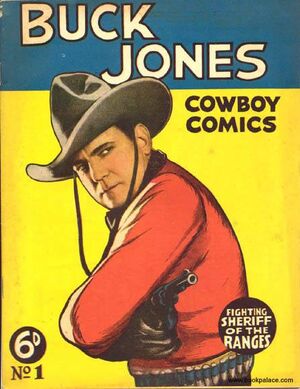 Cowboy Comics (later Cowboy Picture Library) was a comic published by Amalgamated Press and later Fleetway from 1950 to 1962, lasting for 468 issues.[1]
The comic's original stars were film actor Buck Jones and real-life frontiersman Kit Carson, who starred in alternating issues for a good chunk of its run. Other protagonists (namely Tim Holt, the Cisco Kid, Billy the Kid and Buffalo Bill) were occasionally thrown into the mix, but none showed any staying power.
Things were shaken up by the introductions of Davy Crockett and the Kansas Kid in issues 165 and 176 respectively. From this point on the comic ran the four characters' stories in rotation, unbroken until Buffalo Bill returned for issue 347 before vanishing again. Issue 360 saw Billy the Kid re-added to the roster; he replaced Davy Crockett in the regular cast shortly afterwards.
With issue 401 the comic was reconfigured, its covers generally emphasising individual stories over specific characters. However, Kit, Kansas and Buck (rejoined, briefly, by Buffalo Bill and Billy the Kid) carried on as the stars until Cowboy Picture Library finally rode into the sunset.
Amongst the comic's writers was Michael Moorcock, later to become a noted fantasy novelist.[2]
References