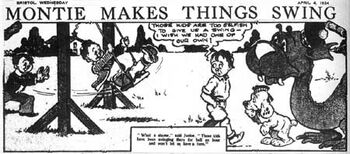 Cyril Gwyn Price was born in Pontypridd, Glamorganshire, Wales, on 8 February 1905, son of Richard Price, a wood sawyer, and his wife Martha. He was educated at Abertridwr and Caerphilly County Schools, and left at 14 to become a miner. When the pit closed ten years later, he moved with his family to Bristol.
His talent for drawing came out when he accompanied his athlete brother-in-law to meets, and he became a sports cartoonist for the Bristol Evening World between 1932 and 1935. He drew comic strips, including "Junior and Happy" and "Montie the Monster" (1934), for the paper, and this led to work for the Amalgamated Press, where he drew "Private Potts" (1934) for Illustrated Chips; "Tomato Kahn" (1935), "PC Penny" (1938-44), "Dizzy" (1939-53) and "Big-Hearted Martha" (1939-51) for Comic Cuts; "Bert and Daisy" (1937) for The Joker, "Al and his Pal" (1938) for Jolly Comic, and "Spotsem and Getsem" (1939-40) for Butterfly.
Paper shortages reduced the work available in the 1940s. In 1948 he started drawing a children's picture feature in the Daily Graphic, which was reprinted as The Whiskers Annual (1948-52). Work in comics picked up in the 1950s, and he drew for titles including TV Comic (1953-57), Playhour (1959), Top Spot (1960), Smash! (1966), Pow! (1967), Thunder (1970) and Cor!! ("Tricky Dicky", 1970). He died of a heart attack in Bromley, Kent, on 17 September 1970.
References
[
]
Alan Clark, Dictionary of British Comic Artists, Writers and Editors, The British Library, 1998, pp. 137-138
Dennis Gifford, Encyclopedia of Comic Characters, Longman, 1987
Online reference
[
]