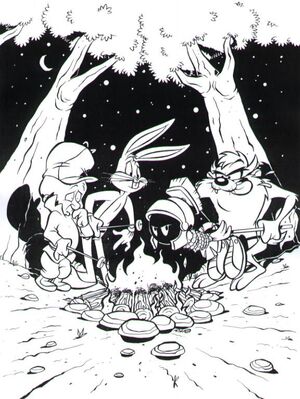 Dave King (born 12 February 1964) is an animation director, producer, writer and artist.
King started in the comic industry, writing and drawing for UK publishers such as London Editions Magazines, Marvel UK (and later for Panini), Fleetway Publications, H. Bauer, the Scout Association,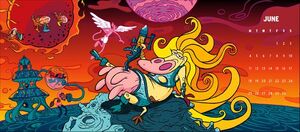 BBC Magazines and DC Thomson.
He wrote or drew strips including Count Duckula, Rugrats, Barbie, Beetlejuice, The Spice Girls, Scazza for Roy of the Rovers, Taliska's Travels in Time for Cosmic, and Dennis the Menace and Gnasher and Desperate Dan, for The Beano and The Dandy.
King worked extensively with Warner Bros. Worldwide Publishing, scripting and drawing Looney Tunes, Tiny Toon Adventures, Animaniacs, Pinky and the Brain and Taz Mania, with many of his strips published by DC Comics.
He also wrote and drew newspaper strips including Looney Tunes and Taz Mania, along with Ren & Stimpy and The Workers.
In the mid-1990s, King began working more in animation, co-art directing a music video for U2, taken from the film Batman Forever, and went on to work with many UK animation companies. In 2002 he directed the VBirds short series for Cartoon Network UK and in 2012 founded the company, Raindog Studios, directing, writing and producing for animation.
Community content is available under
CC-BY-SA
unless otherwise noted.