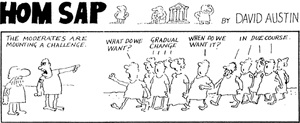 David Austin (b. Lavendon, Buckinghamshire, 29 March 1935; d. Highbury, London, 19 November 2005) studied chemistry at Leicester University and after his national service in the RAF joined Esso as a chemical analyst, before leaving to train as a teacher at Reading University in 1966. He worked as a teacher in London from 1969 until 1974, when he resigned after a series of strikes, which he felt did not put children's interests first.
He began the long-running strip Hom Sap in Private Eye in 1970, while still a teacher, after someone showed them samples of his work. He started a comic-strip magazine, Duck Soup, with Tom Johnston and Kipper Williams, and became a full-time cartoonist in 1976. In 1986 he joined Eddie Shah's Today newspaper as a daily cartoonist, but left the following year after it was bought by Rupert Murdoch. From 1990 until his death he was the pocket cartoonist for The Guardian. He also drew cartoons for the New Scientist magazine, Labour Weekly, the Mail on Sunday, the Daily Telegraph and the Spectator, and created a strip called Albert the Experimental Rat for New Behaviour.
He shared a studio in the West End of London with Kipper Williams and Nick Newman for 27 years. He was diagnsed with stomach cancer in 2004 and died the following year.
References
Edit
Online reference
Edit