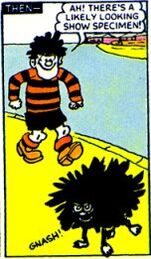 David McKay Law (b. Edinburgh, 15 June 1908, d. April 1971) was educated at Edinburgh College of Art and worked as an illustrator for Odhams Press, before joining DC Thomson in the early 1930s, drawing newspaper cartoons, incouding The Wee Fella in the Dundee Evening Telegraph.
In 1951 he created "Dennis the Menace" for The Beano, a juvenile tearaway who became so popular he soon displaced "Biffo the Bear" from the comic's cover, and in the mid-1950s also appeared in The Weekly News. The character continues to this day, by various hands in various media. Two years later Law created "Beryl the Peril" for The Topper, and in 1960 created accident-prone soldier "Corporal Clott" for The Dandy.
He was taken ill in 1970, and his strips were taken over by other artists, including David Sutherland on "Dennis the Menace" and John Dallas on "Beryl the Peril". Law returned briefly to The Beano in 1971, but died in April that year, aged 63.
References
[
]
Online reference
[
]