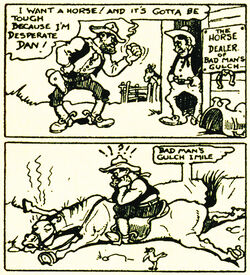 "Desperate Dan" is a strip which first appeared in issue 1 of The Dandy in 1937 and is still running in the current digital incarnation Dan was a lawbreaking desperado: the very first strip saw him buying a horse, which then collapsed under his weight. Dan then proceeded to attack the unfortunate dealer ("Aw gee, Dan! You wouldn't beat me up would you?")
As the strip progressed Dan mellowed out into a more upstanding citizen, leaving generations of kids wondering exactly what he was so desperate about. His immense strength - originally a facet of his exaggerated tough guy persona - became his defining trait, making hims somewhat similar to the broadly contemporaneous creations Popeye and Superman.
Dan's favourite food is the "cow pie", a large pie with horns and a tail.
Watkins drew the strip until he died of a heart attack in 1969, with an unfinished "Desperate Dan" on his desk. He was not replaced on the weekly strip for fourteen years,[1] although Dan's exploits in annuals and Summer specials were taken over by Charlie Grigg.[2] Other artists to work with the character include Peter Davidson and Steve Bright.[3] The next major Dan artist was Ken Harrison.
In 1997 the strip temporarily vanished from the comic's pages following a story where he struck oil and ran off with the Spice Girls.[4] He eventually returned in issue 2924; dated December 6 1997, this was the sixtieth anniversary issue. Dan is shown living the high life in a luxurious mansion, but when he orders his butlers to bring him a Dandy to read in bed, he is informed that the comic has been cancelled: "seemingly the Dandy will be no more without Desperate Dan". After seeing the Dandy headquarters being demolished and its staff queuing outside an unemployment office, Dan sells all of his worldly goods to save the comic and is welcomed back to Cactusville as a hero.
In 2004 The Dandy received a general overhaul; an issue without Desperate Dan was shown to focus groups of children, who objected to his absence.[5] In the new-look Dandy Dan was redesigned but was still drawn by Harrison. He still enjoyed his cow pies, despite erroneous claims to the contrary from critics of the redesign,[6] although his six-shooters and spurs were removed from his costume.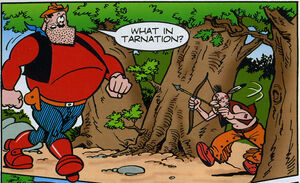 Harrison continued to draw the strip until the comic (now The Dandy Xtreme) once again began reprinting Watkins' strips,[7] some of them colourised.[8] It was later handed to Jamie Smart, who drew Dan in his own inimitable style. While smart provided the weekly strips, The 2011 and 2012 Dandy annuals featured a more traditional Dan drawn by Nigel Parkinson.[9][10]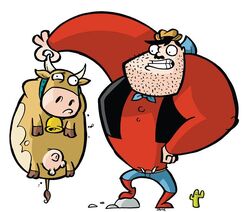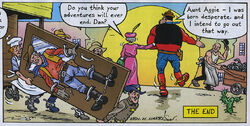 Jamie Smart's run on Dan lasted through to the penultimate print issue of The Dandy. In the final edition, Ken Harrison once again drew the strip; the story ended with Dan finally walking into the sunset.
A partially-animated incarnation of the strip, entitled "The Legend of Desperate Dan", is a regular feature in the digital relaunch of The Dandy.
Dan was, throughout a large portion of The Dandy's run, its cover star. He first replaced the original cover star, Korky the Cat, in 1984.[11] He lost this honour with the 2004 overhaul[12] but still appears occasionally, and traditionally still gets centre stage on the covers of annuals.
Also Sprach Wikipedia
[
]
After Watkins' death the comic continued reprinting his strips until 1983 (though the then "Korky the Cat" artist Charles Grigg drew new strips for annuals and summer specials), when it was decided to start running new strips. These were initially drawn by Peter Davidson, but Ken H. Harrison soon took over as regular artist. Starting from issue 2985, dated 6 February 1999, "Cuddles and Dimples" replaced Dan on the front cover. This didn't last long, however, as after a readers' poll in 2000, Dan returned to the cover. Although Ken Harrison was the main artist from 1983 to 2007, other artists have also occasionally filled in for Harrison, including David Parkins and Trevor Metcalfe in the early 1990s. John Geering took over the strip between 1994 and 1997, after which Harrison returned as full-time artist (though Steve Bright occasionally acted as a ghost artist as well). Jamie Smart took over drawing and writing the Desperate Dan comic strips in April 2008.
The first member of his family to appear in the strip was Aunt Aggie (issue 107, dated 16 December 1939) followed by his nephew, Danny (issue 304, dated 27 October 1945) and niece, Katey in 1957. In 2001, Desperate Dan's girlfriend Little Bear appeared; she was a native American squaw but disappeared with the 2007 Dandy relaunch, when Dan's artwork style changed.
The most famous story-line occurred in 1997, when Dan struck oil and became a millionaire. A few issues later, to the shock of his fellow-residents of Cactusville, he left The Dandy, running off with the Spice Girls. After a few weeks of trying to find characters to replace him, The Dandy had no choice but to close down. The following week, however, in the special 60th birthday edition (2924, dated 6 December 1997) Dan heard of the news and returned to the comic.
(Source)
References
[
]