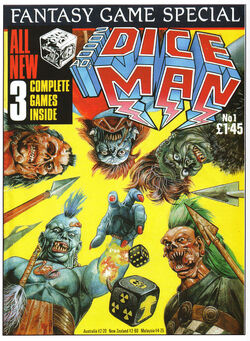 2000 AD's Diceman was a short-lived monthly magazine published by IPC in 1986. A spin-off of 2000 AD, it combined comics with role-playing games.
Diceman was conceived by Pat Mills, who had previously created a fifteen-part role-playing game-cum-comic titled "Slaine", which ran in 2000 AD.[1] Simon Geller served as editor, while Kevin O'Neill designed the magazine. Other contributors include Hunt Emerson.[2][3]
Diceman lasted for only five issues. The following year, Mills and Emerson collaborated on Titan Books' You are Maggie Thatcher: A Dole-Playing Game.[4]
References
Edit
Community content is available under
CC-BY-SA
unless otherwise noted.