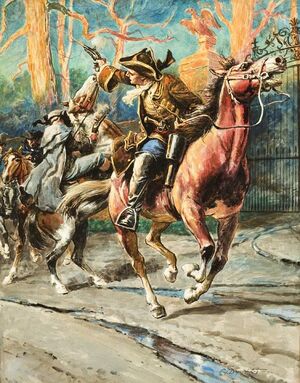 Dick Turpin, the notorious 18th century highwayman, has appeared fairly regularly in British comics.
Knock-Out included at least two Dick Turpin serials: "Dick Turpin's Ride to York", written by Leonard Matthews and drawn by D. C. Eyles in issues 490-498 (1948), and "Breed of the Brudenels" by Matthews and H. M. Brock in issues 564-584 (1949-50).
In 1979 a Dick Turpin strip, based on the then-current ITV series starring Richard O'Sullivan, appeared in Look-In, written by Angus Allan and drawn by Martin Asbury.
In more recent years Time Bomb Comics have published

Dick Turpin and the Restless Dead

(2008), written by

Steve Tanner

and drawn by

Andy Dodd

, and

Dick Turpin and the Crimson Plague

(2011), written by Tanner and drawn by

Graham Howard

.
References
[
]
Denis Gifford, Encyclopedia of Comic Characters, Longman, 1987, p. 64