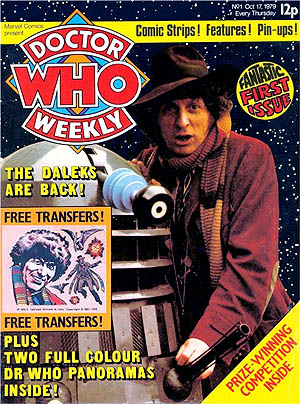 Doctor Who Weekly was launched by Marvel UK on 11 October 1979, princed 12p. It came about when Stan Lee called for an increase in titles from the company's British branch, and Dez Skinn - former editor of Whizzer and Chips - contacted the BBC in the hopes of licensing Doctor Who for a magazine.
From the beginning it has featured the Doctor in comic strip adventures, the earliest starring Tom Baker's fourth Doctor in strips written by Pat Mills and John Wagner and drawn by Dave Gibbons. Other strips included "Abslom Daak: Dalek Killer" and "Warworld: The Origin of the Free-Fall Warriors". Comic writers and artists to have worked on the various strips include Alan Moore, Grant Morrison, Steve Parkhouse, Ian Edginton, Mike McMahon, John Ridgway, Tim Quinn, Dicky Howett, Steve Noble, Kev F. Sutherland, Scott Gray and Martin Geraghty.
It went monthly with issue 44 in September 1980 and scaled back on the comic strip content, renamed Doctor Who: A Marvel Monthly, Doctor Who Monthly with issue 61, The Official Doctor Who Magazine with issue 85 in February 1984, and finally Doctor Who Magazine with issue 99 in April 1985, under which title it is still being published. It is now published by Panini, who bought out Marvel UK in 1995.
References
Edit
Kibble-White, Graham (2005). Ultimate Book of British Comics. London: Alison & Busby. pp. 74, 109, 111. ISBN 0-74908-211-9
Online reference
Edit
Community content is available under
CC-BY-SA
unless otherwise noted.