Jurassic World: Dominion Dominates Fandom Wikis - The Loop
Play Sound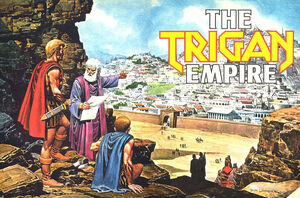 Don Lawrence (b. Donald Southam, East Sheen, London, 17 November 1928; d. Jevington, London, 29 December 2003) was educated at St. Paul's School, Hammersmith, and after doing his national service in the army, used his gratuity to study art at the Borough Polytechnic Institute (now London South Bank University), but failed his final exams. Inspired by Don Marler, a Borough graduate who was working in comics, he took some samples to Amalgamated Press, who suggested he try Mick Anglo's studio, which was then packaging comics for L. Miller and Son.
He worked for Anglo for four years, drawing Marvelman as well as various western comics. Later, after a dispute over pay, he moved to Odhams Press, specialising in westerns like "Wells Fargo" and "Pony Express" for Zip and "Billy the Kid" for Sun. He also drew "Blackbow the Cheyenne" for the Eagle.
He later switched to swashbucking historical strips like "Olac the Gladiator" in Tiger and "Karl the Viking" in Lion. A colour "Karl the Viking" strip in the 1965 Lion annual led to more colour work for Bible Story magazine, then "The Trigan Empire", written by Mike Butterworth, in Ranger, and later in Look and Learn. Affiliated with the Temple Art Agency, he also drew "Fireball XL5" in TV21, "Thunderbirds" in Joe 90, and the erotic strip "Carrie" in Mayfair.
He quit "The Trigan Empire" in 1976 after discovering how widely syndicated the strip was abroad, and found work in the Dutch comic Eppo, first on "Commandant Grek", written by his friend Vince Wernham, and then his biggest success, Storm, created by Martin Lodewijk and written by Philip Dunn, which ran for 22 volumes. He was approached by Chris Claremont in 1989 to draw the X-Men for Marvel in the US, but he declined.
In 1995, following an unsuccessful cataract operation, he lost the sight of his right eye, the loss of depth perception forcing him to change his drawing technique. He had a second, successful, cataract operation in 1999, but his health was declining, and he retired after he was diagnosed with emphysema. The final Storm volume was completed by his former assistant Liam Sharp. Another of his assistants who went on to have a comics career in his own right is Chris Weston. Lawrence died of emphysema at the age of 75. He was honoured with a knighthood from the Dutch Queen Beatrix.
External links
[
]
References
[
]
Online reference
[
]