Jurassic World: Dominion Dominates Fandom Wikis - The Loop
Play Sound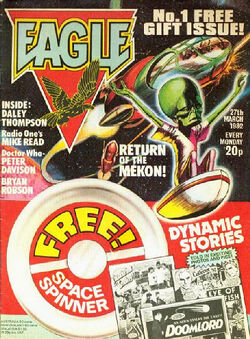 The Eagle, a revival of the original Eagle, was launched as a weekly comic by IPC on 27 March 1982. It absorbed Scream! (1984), Tiger (1985), Battle (1988), Mask (1988) and Wildcat (1989), and was cancelled in January 1994.
Like its predecessor, its lead strip was "Dan Dare" - but the hero was the great great grandson of the original. Stories were written by John Wagner and Pat Mills, with painted art from Gerry Embleton, Ian Kennedy and John Gillatt. In 1989 the original Dan Dare returned in a six-part story drawn by original Eagle artist Keith Watson. Later stories were written by Tom Tully and drawn by David Pugh.
The rest of the comic initially consisted mainly of photo-stories, but it reverted to the traditional drawn format with issue 79 (1983). In its later years it went monthly, and much of its content was given over to reprints.
Strips included:
"

Ant Wars

" (reprinted from 2000 AD)
"

The Avenger

" by Tom Tully and Mike Western, 1987-
"

Billy's Boots

" (imported from Tiger)
"

Bloodfang

"
"

The Brothers

", 1984-
"

Charley's War

" (reprinted from Battle)
"

The Collector

", various writers, photostrip with drawn framing sequence by Patrick Wright
"

Computer Warrior

", written by John Wagner and Alan Grant (as D. Spence), drawn by Mike Dorey, Mike Western, 1986-
"

Comrade Bronski

"
"

D.A.D.D.

"
"

Dark Angels

"
"

Deathwish

" (imported from Tiger)
"

Detective Zed

", drawn by

Robin Smith

, 1987-
"

Dolebusters

"
"

Doomlord

", written by John Wagner and Alan Grant, photostrip, then drawn by Eric Bradbury, 1982-91
"

Ernie

" by

Dave Follows

, 1982-83
"

The Fifth Horseman

"
"

The Fists of Danny Pike

"
"

Gaunt

" (reprinted from Battle)
"

Golden Boy

"

The Hand

"
"

The House of Daemon

", written by John Wagner and Alan Grant, drawn by

José Ortiz

, 1982-83)
"

The Invisible Boy

", written by Scott Goodall
"

Joe Soap

", written by John Wagner and Alan Grant, photostrip, 1982-83
"

M.A.C.H. 1

" (reprinted from 2000 AD)
"

M.A.C.H. Zero

" (reprinted from 2000 AD)
"

Manix

", written by John Wagner and Alan Grant (as Keith Law), Scott Goodall, photostrip, then drawn by

Manuel Carmona

, 1983-1984
"

Mask of Evil

"

The Monster

"
"

One-Eyed Jack

" (reprinted from Valiant)
"

Rat Trap

", revival from Cor!!, written by Scott Goodall
"

Saddle Tramp

", written by Gerry Finley-Day, photostrip, 1982-83
"

Sergeant Streetwise

", written by Gerry Finley-Day, photostrip, 1982-83
"

Survival

"
"

The Thirteenth Floor

" (imported from Scream!) writtn by John Wagner and Alan Grant (as Ian Holland) and drawn by

José Ortiz

, 1984-
"

Thunderbolt and Smokey

", written by Tom Tully, photostrip, 1982-83
"

The Tower King

" by Alan Hebden and

José Ortiz

, 1982
"

Toys of Doom

"
"

Walk or Die

", written by Scott Goodall
References
[
]