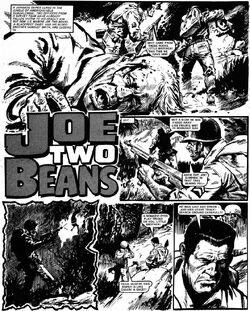 Eric Roy Bradbury (b. Sydenham, Kent, 4 January 1921; d. Southend-on-Sea, May 2001) studied at Beckenham art school from 1936, and served as an air gunner on Wellingtons during the Second World War. After the war he worked for Gaumont-British Animation, alongside future comic creators Mike Western, Ron Smith, Bill Holroyd, Harry Hargreaves and Nobby Clark. When the studio folded in 1949, Bradbury and Clarke took samples to Amalgamated Press, and were offered work at Knock-Out, edited by Leonard Matthews - Clarke writing, Bradbury drawing. He started out on humour strips like "Blossom" and "Our Ernie", but soon specialised in adventure strips, particularly westerns like "Lucky Logan" on which he alternated with former G-B colleague Mike Western, and "Buffalo Bill", both in Comet. For the same title, he drew an adaptation of the film The King's Thief.
From the 1960s on he developed a dark style similar to Francisco Solano López, and drew strips like "Mytek the Mighty", "The House of Dolmann" and "The Black Crow" for Valiant, "Phantom Force 5", "The Leopard from Lime Street" (inking Mike Western's pencils) and "Maxwell Hawke" for Buster, "Von Hoffman's Invasion" for Jet, and "Cursitor Doom" for Smash!. In 1973 he was the artist on an abortive IPC superhero comic, Captain Britain (no relation to the later Marvel UK character).
He was one of the mainstays of Battle Picture Weekly in the 1970s, drawing such strips as "Joe Two Beans", "Coward's Brand on Bradley", "Crazy Keller", "Death Squad", "The Fists of Jimmy Chang" and "Invasion 1984", and also drew "Hook Jaw" for Action. For 2000 AD he drew "Invasion", "The Mean Arena" and "Rogue Trooper", as well as numerous "Tharg the Mighty" stories and "Future Shocks". He also drew Doomlord for the revived Eagle.
Community content is available under
CC-BY-SA
unless otherwise noted.