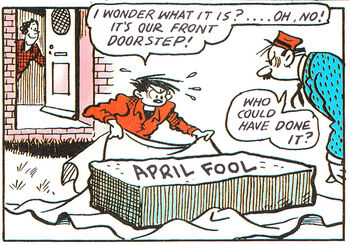 Eric Arthur "Robbie" Roberts was born in South London on 7 January 1910, the son of theatrical parents. He studied at St. Martin's School of Art in London and set up a studio, and his first professional cartooning appeared in magazines like Tit-Bits and Answers in the 1930s. His first work in comics was a strip called "Podge" (1937-48) from the first issue of DC Thomson's The Dandy. He also drew for The Beano, including "Helpful Henry", "Rip Van Wink" (1938-48) and "Good King Coke" (1939-46).
During the Second World War he served in the RAF, where he did technical drawings as well as posters and cartoons, and met his future wife, Barbie, who was in the WRAF. They married in about 1947, and had two children. After the war he returned to freelance cartooning, drawing "Mike" (1945-57) for AP's Knock-Out (sometimes featuring redrawn "Podge" strips) and "Smudge" (1947-49) for The Dandy, as well as drawing for smaller publishers' comics, like The Challenger Comic ("Mr Mutt", 1948), Mirth ("Helpful Harry", 1948) and Full-o-Fun ("Willie Watch", 1949).
In the 50s he drew for The Dandy, including "The Wee Black Scallywag" (1954), "Ginger's Super Jeep" (1955) and "Rip Snorter" (1956), before moving back to the AP and drawing "Sinbad Simms" (1957-60) and "Billy Bunter" (1958-59) for Knock-Out and "Niblo Nibbs" (1960) for Film Fun. He then signed an exclusive freelance contract with DC Thomson, where he drew "Dirty Dick" (1960-77) and "Winker Watson" (1961-79) for many years. He wrote many of his own scripts, and continued working until 1981, when he fell ill with lung cancer. He died in the second quarter of 1982.
References
Edit
Eric (Robbie) Roberts by the daughter Erica Farmer, Peter Gray's Comics, 24 April 2010
Alan Clark, Dictionary of British Comic Artists, Writers and Editors, The British Library, 1998, pp. 144-145
Denis Gifford, Encyclopedia of Comic Characters, Longman, 1987
Steve Holland, Eric Roberts, Bear Alley, 26 April 2010
Steve Holland, Comic Cuts, Bear Alley, 19 February 2008
Lew Stringer, Eric Roberts' Billy Bunter, Blimey! It's Another Blog About Comics!, 16 February 2008
Online reference
Edit
Community content is available under
CC-BY-SA
unless otherwise noted.