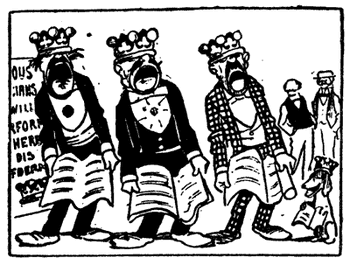 Ernest Wilkinson was born in Newington, London, in the fourth quarter of 1869. His father James ran a design business. Ernest contributed to various weekly comics around the turn of the 20th century. Strips he drew included:
"

The Pink Kid

" (1900) for Comic Home Journal
"

The Doings of Von Puff, Von Eye, Iko Italiano and Von Sausage the Dog

" (1901-09) for The Big Budget
"

Aunt Mary's Baby

" (1905) for

The Halfpenny Comic
He also worked for Ally Sloper's Half Holiday (1900), Jester (1904), Illustrated Chips (1904), Boy's Leader (1904) and Boy's Friend (1919).
His son Leslie became an editor and scriptwriter at the Amalgamated Press. Contrary to Alan Clark's intimations, he was not related to brother and sister artists Tom and Theresa Wilkinson.
References
[
]
Alan Clarke, Dictionary of British Comic Artists, Writers and Editors, The British Library, 1998, pp. 187-188
1881, 1891, 1901 and 1911 censuses
Online reference
[
]