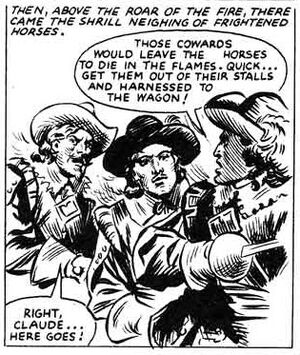 Frederick T. Holmes was born in Linsdale, Buckinghamshire, on 12 November 1908. He left school in 1924, and started selling drawings to the children's page of the Birmingham Weekly Post. By the 1930s he was illustrating short stories and drawing comic strips, cartoons and headings for the paper, while taking a correspondence course in illustration with the British and Dominion School of Drawing, his only formal art training. He served in the RAF during the Second World War, leaving the service in 1947.
He took a staff job producing colour illustrations for Stirling-based religious publisher Drummonds, but they went bust in 1951, so he turned to the Amalgamated Press, beginning by illustrating a serial in Film Fun. He drew "Claude Duval, the Laughing Cavalier" for The Comet from 1953 to 1959. He also drew "Buffalo Bill" for the same title in the mid-'50s, as well as "Billy the Kid" for Sun, "The Gay Gordons" for Playhour, and "Carson's Cubs" (1957-) for Lion. He drew stories featuring Rob Roy, Dick Turpin and Claude Duval for Thriller Picture Library. From 1960 to 1963 he drew "Roy of the Rovers" for Tiger, and in 1961 he drew "Captain Careless" for Knock-Out. He was still working in 1971, when he drew "Sergeants Four" for Jet, and appears to have drawn episodes of "Dredger" in Action in 1976. Suffering from asthma, he retired some time in the 1970s.
Alan Clark, Dictionary of British Comic Artists, Writers and Editors, The British Library, 1998, p. 80
Community content is available under
CC-BY-SA
unless otherwise noted.