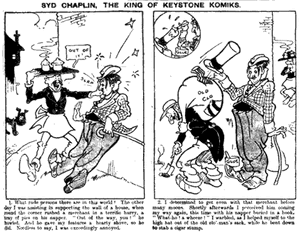 Frederick L. Crompton was born in Salford in 1888, the son of an advertising agent. His family moved to Hornsey, Middlesex by 1911, by which time he was working as a press artist, and by 1915 he was a staff artist for the Amalgamated Press, drawing "Gilbert the Filbert" and "Syd Chaplin" for The Firefly in a style based on that of Bertie Brown. He also drew "Sleepy Sidney" (1917) and "Camouflage Claude" (1918) for Merry and Bright, "Harry Coe" (1919) and "Len Little and Harry Long" (1923) for The Jester, "Chu, Chin and his Chow" (1920) for Lot-O'-Fun, "Bubbles the Boy Clown" (1921) for Bubbles, "Georgie Porgie" (1921) for The Children's Fairy, and "Arthur the Artist" (1921) for Little Sparks.
He created the long-running "Marmaduke and his Ma" for Funny Wonder in 1922, which was later drawn by Wally Robertson. His best known work was "The Brownie Boys", which he took over from Bertie Brown and drew until 1956 in The Rainbow, and from then until 1959 in Tiny Tots. He also drew two very similar strips, "The Bumpty Boys" for Tiger Tim's Weekly from 1920, and "The Wee Woolly Boys" for The Playbox from 1925. Other work included "Cheery Charlie" (1928) in My Favourite and "Molly and Mick" (1938) in Sunbeam. He had a brief stint on Film Fun, drawing "Laurel and Hardy", during the Second World War. He continued working for the AP's nursery titles into the late 1950s, and died in Wood Green, Middlesex, in the fourth quarter of 1956.
References
Edit
Alan Clark, Dictionary of British Comic Artists, Writers and Editors, The British Library, 1998, p. 46
Online reference
Edit
Community content is available under
CC-BY-SA
unless otherwise noted.