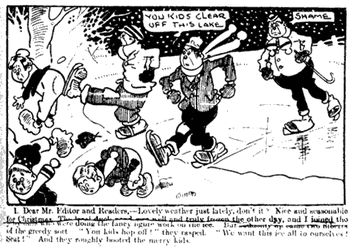 Gilbert Morris "Bertie" Payne was born in Cardiff in the first quarter of 1879. He was the older brother of A. B. Payne, who created the comic strip Pip, Squeak and Wilfred in the Daily Mirror. Their father, Joseph, was a cabinet maker.
He had moved to London by 1901, and in the early 1900s he drew comics for the Amalgamated Press and James Henderson & Sons, including "Midshipman Breezy" (1906) in Lot-o'-Fun; "Gertie the Regimental Pet" (1906-12) in Comic Cuts; "Portland Bill" (1907-26) in Butterfly; "Monty the Merry Mid" (1908) in Puck; "Constable Cuddlecook" (1909-40) in Jester and Wonder; "Curly Kelly" (1910-17) and "Bouncing Billy" (1919) in Merry and Bright; "Bertie Brightboy" (1911) in The Favourite Comic; "Sammy Smite" (1912) in Penny Wonder; "Midshipman Larry Larkin" (1914) in The Big Comic; "Lazy Leonard and Lively Laurence" (1915-17) in The Firefly; and "Polly Moran" (1920) in Kinema Comic.
He also illustrated story papers, including Chums and Boys of Our Empire, many full-colour postcards, and drew cartoons for Punch. He died in Bristol in the fourth quarter of 1947, aged 59.
References
[
]
Alan Clark, Dictionary of British Comic Artists, Writers and Editors, The British Library, 1998, pp. 131-132
Dennis Gifford, Encyclopedia of Comic Characters, Longman, 1987
Steve Holland, G. M. Payne, Bear Alley, 29 August 2007
Online reference
[
]