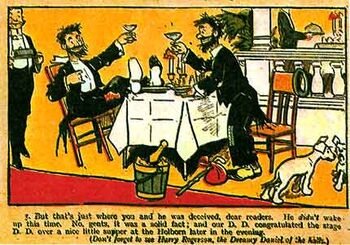 George Davey was born in Islington, London, in 1881 or 1882, son of Edward Davey and his wife Mary, née Little, both housekeepers. His father died between 1891 and 1901. His art began to appear in the comics of the Dalziel Brothers, James Henderson & Sons and the Amalgamated Press around the turn of the 20th century, He created "Dreamy Daniel", a tramp who went on adventures in his dreams, for Lot-O-Fun in 1906-22. The character was so popular he transferred to the stage, played by music hall star Harry Rogerson, who met Daniel in the comic strip in 1908. He was revived as "Dreamy Dennis" in Jingles in 1944, drawn by Charlie Pease and others.
Davey also worked for Chums (1900), Ally Sloper's Half Holiday (c. 1901), Fun (1901), Jester and Wonder (1903), Boy's Realm (1903-), Boy's Friend (1904), Puck (1906), Comic Life ("Jakey and Fritz", 1909; "Burglar Bertie", 1911-1917), Scraps ("Mr Knowall", 1909), English Illustrated (1909), My Funnybone ("Rupert the Fearless", 1911), The Favourite Comic (1911), The Penny Wonder (1912-13), Blackie's Children's Annual (1918-19), Lot-O'-Fun ("Texas Ted", 1920), The Gaeity Mag (c. 1922-23), The Passing Show (1920s), Merry and Bright, Big Budget and Punch, and drew comic postcards.
References
Edit
Alan Clarke, Dictionary of British Comic Artists, Writers and Editors, The British Library, 1998, pp. 47-48
Denis Gifford, Encyclopedia of Comic Characters, Longman, 1987, pp. 38, 71
Online reference
Edit
Community content is available under
CC-BY-SA
unless otherwise noted.