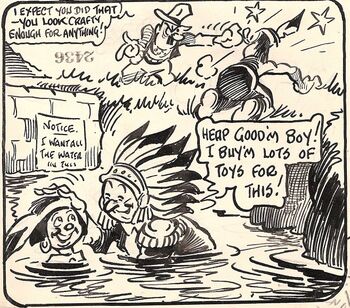 Albert George Beresford "Froth" Parlett was born on 5 February 1902 in Poplar, London, the son of comic artist Harry Parlett and his wife Florence Annie. He married Iolanthe Power in 1929, and followed his father, and his elder brother Reg, into comics, his first recorded work being on "Uncle Squibs and His Nibs" for Jester and "Sailing the Seas" for Merry and Bright in 1929.
He took over "Peggy, the Pride of the Force" in Larks from his brother Reg in 1931, and "Basil and Bert in Jester from Don Newhouse and Roy Wilson in 1932, and drew "Little Elf" (1936-42) for Funny Wonder, and "Kitty Clare's Schooldays" (1938) for Crackers. Other Titles he worked for in the 1930s included Jingles (1934), Tip Top (1934), Buzzer (1938), and The Children's Own (1933), a supplement to the Daily Express. In 1939 he started working for Radio Fun, for which he drew "Sandy Powell" and "In Town This Week.
He served in the forces during the Second World War, before returning to comics, working for Comic Cuts, Jingles, Tip Top, and Film Fun, for which he drew "George Formby", "Abbott and Costello", "Jerry Lewis" and "Harry Secombe". His adaptable style meant he could keep working longer than many of his contemporaries. In the 1950s he worked on Young Marvelman; in the '60s he drew for Smash! (1966), Mandy (1967) and Bunty (1969); and in the '70s he worked for Debbie (1973), The Victor (1974) and The Two Ronnies Comic Book (1978). He died in Worthing, Sussex, the third quarter of 1981, survived by his wife.
References
[
]
Alan Clark, Dictionary of British Comic Artists, Writers and Editors, The British Library, 1998, pp. 127-128
Dennis Gifford, Encyclopedia of Comic Characters, Longman, 1987, pp. 131, 162, 249
George Parlett (1902-1981) at DanDare.info
Online reference
[
]