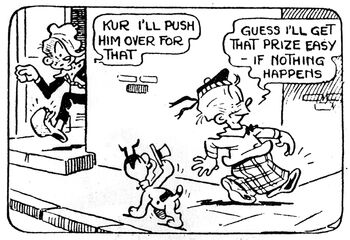 Gerald Walter Pain was born in the first quarter of 1904 in Thanet, Kent, the son of Walter Pain, a postman, and his wife, Clara Edith, née Case. He started drawing comics for Harold Mansfield's Fleetway Press, including "Percy Parkins" (1926) for The Monster Penny Comic, and "Uncle Mack at Broadstairs" (1926) for The Golden Penny Comic. When the Fleetway Press was taken over by the Amalgamated Press in 1928, Pain went with it, and drew "Skinny and Scotty" (1928-30) for The Monster Penny Comic; "Raffles and Snaffles" (1929) for The Joker; "Dr. Duck the Quack" (1929) for Comic Cuts; "Hardboiled Eggbert" (1932) for Illustrated Chips; "Sky Capers" (1932) and "Little Daisy Daydream" (1933) for Merry and Bright; and "All at Sea" (1933) for The Joker. He died in the third quarter of 1933, aged only 29 - it is said he committed suicide by hanging himself with his braces.
References
Edit
Alan Clark, Dictionary of British Comic Artists, Writers and Editors, The British Library, 1998, pp. 123-124
Dennis Gifford, Encyclopedia of Comic Characters, Longman, 1987, p. 196
Community content is available under
CC-BY-SA
unless otherwise noted.