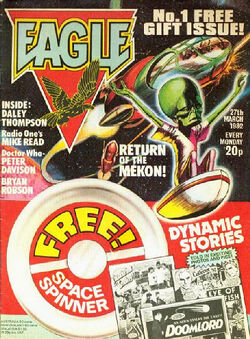 Gerald A. Embleton was born in London in 1941 and became a freelance illustrator after leaving school in the 1960s. He drew comics, including strips for TV Century 21 and "The Iron Man" for Boys' World and the original Eagle, and provided colour and black and white strips for Look and Learn. In 1982 he painted the new Dan Dare in the revived Eagle.
Since the 1970s he has primarily worked in historical and educational illustration. He has illustrated more than 40 military reconstruction books for Osprey Publishing, and his book The Medieval Soldier, with John Howe, is influential in the living history scene. He moved to Switzerland in 1983, and in 1998 founded a company called Time Machine that creates displays in museums using 3D figures.
His brother, Ron Embleton, was also a well-known comics artist.
External links
[
]
References
[
]
Online reference
[
]