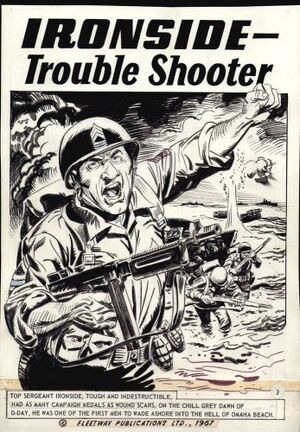 Luigi "Gino" D'Antonio was born in Milan in 16 March 1927. He began drawing comics in Italy in 1947. In 1955 he joined the studio Creazioni D'Ami, which got him work with Fleetway in the UK. He started with illustrations for Biggles stories in the Junior Mirror (1955-56), going on to draw "The Bold and the Brave", written by Geoffrey Bond, in Express Weekly (1956-57), "Battler Britton" for Thriller Picture Library in 1958, "Paddy Payne" for Lion (1958), "Johnny Conquest" in Sun (1958), "Hawk Hunter and the Iron Horse" for Valiant (1962-63), and "Little Women and Good Wives" for Tina. He was particularly associated with Fleetway's Picture Library titles, including 28 issues of War Picture Library, three of Battle Picture Library, three of War at Sea Picture Library, one of Cowboy Comics Library, two of Valiant Story of the West and one of Front Line Picture Library. He also drew covers for Eagle and Boys' World, and painted adaptations of classic literature for Tell Me Why and World of Wonder. He continued to work in Italian comics until the 1980s, and won numerous awards as a writer as well as an artist. He died on 24 December 2006.
References
Edit
Online reference
Edit
Community content is available under
CC-BY-SA
unless otherwise noted.