Jurassic World: Dominion Dominates Fandom Wikis - The Loop
Play Sound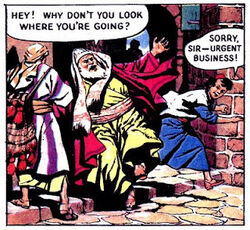 Giorgio Bellavitis was born in Venice in 1926. He did some illustration and cartooning work in Italian publications while still at school, and attended the Institute Cavanis for a few months before the outbreak of the Second World War. In 1943 he joined the Venetian anti-fascist partisans under the nom de guerre "Walt Disney", and drew for the partisan magazine Vento di montagna.
After the war he resumed his education, intending to become an architect, but soon joined Mario Faustinelli, Hugo Pratt, Dino Battaglia, Alberto Ongaro and others in founding a new comics publisher, Uragano Comics Inc. Bellavitis drew a Robin Hood strip for their magazine Albi Uragano, under the pseudonym George Summer. After the Venice Group, as they were known, split up in 1948, Bellavitis drew comics for a publisher in Rome, before becoming art director of an agency, Cosmopolitan Artists, that had dealings with British publishers.
Bellavitis was one the beneficiaries of these contacts, drawing "Paul English" for Swift (1954-55), and "Mark, the Youngest Disciple" for Eagle (1954-55). The agency collapsed in 1955, and Bellavitis moved to London to set up a new agency. He took over drawing "Storm Nelson" for Eagle, drew "Rodney Flood" in Express Weekly in 1956, and was one of the artists who drew Eagle's "Riders of the Range". He also did some work for Pearson's pocket library titles, Fleetway's nursery comics, including Playhour and Treasure, and The New Adventures of Charlie Chan. In 1958 he returned to Italy, where some of his Eagle strips were reprinted.
He left comics in 1962, translating Ebenezer Howard's 1906 book Garden Cities of Tomorrow into Italian, before turning to architecture and design and becoming involved in the restoration of historic buildings in Italy. He taught art history at the University of Virginia in 1973, and in 1979 was Thomas Jefferson Foundation Visiting Professor at the university's school of architecture. He died on 21 May 2009.
References
[
]
Steve Holland, Giorgio Bellavitis (1926-2009), Bear Alley, 27 May 2009
Eagle artists - Giorgio Bellavitis, Eagle Times, 30 June 2008
Alan Clark, Dictionary of British Comic Artists, Writers and Editors, The British Library, 1998, p. 16
Online reference
[
]