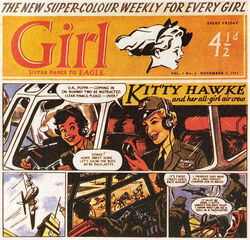 Girl was a weekly comic for girls published from 1951 to 1964. It was launched by Hulton Press on 2 November 1951 as a sister paper to the Eagle, and lasted through Hultons' acquisition by Odhams Press in 1959 and Odhams' merger into IPC in 1963. Its final issue was dated 3 October 1964, after which it was merged into Princess. Another comic called Girl was published by IPC from 1981-1990.
The lead strip was originally "Kitty Hawke and her All-Girl Air Crew", drawn in full colour by Ray Bailey, about a group of women running a charter airline. The strip was not very popular - it was apparently felt to be too masculine - and it was moved to the black and white interior pages, replaced on the cover by the schoolgirl strip "Wendy and Jinx", written by Michael and Valerie Hastings and drawn by Bailey.
Other strips included:
References
Edit
External links
Edit
Community content is available under
CC-BY-SA
unless otherwise noted.