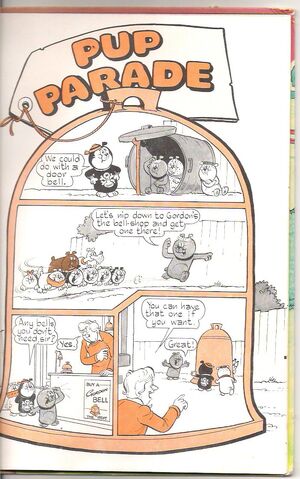 Gordon Davidson Bell was born in Dundee in 1934. He was educated at Clepington Primary School and Morgan Academy in Dundee, and studied art at Duncan of Jordanstone College. He and author Brian Callison ran CB Studios, an art and furniture business, for a time.
He started drawing for DC Thomson comics by 1958, when he drew "Pom-Pom" in The Beano. Since then he has drawn "Pup Parade" (1967) for The Beano; "Spoofer McGraw" (1968-74) for Sparky; "Harum-Scarem" (1973-74), "Sammy's Scribbles" (1973-76) and "The Buzzies and the Fuzzies" (1973-75) for Buzz; "Billy the Kid and Pongo" (1975-76) and "Fiends Beans" (1975-76) for Cracker; "Hugh's Zoo" (1977-79) and "First Ada" (1977-79) for Plug; "Scoopy" (1980-85) and "Doodlebug! (1980-82) for Nutty; "Pearl" (1986), "The Neals on Wheels" and "Kuckoo Komedy" (1986) for The Topper.
He also worked for DC Thomson's motoring magazine Autocar, and created the "9 wellies", cartoon characters designed to cheer up children in hospital for NHS Tayside. His satirical cartoons also headed the political diary every Saturday in The Courier, signed "Fax".
He died suddenly, at the age of 79, on 13 February 2014.
References
[
]
Alan Clark, Dictionary of British Comic Artists, Writers and Editors, The British Library, 1998, pp. 14-15
Andrew Argo, Obituary: Courier "Fax" cartoonist Gordon Bell, The Courier, 17 February 2014
Lew Stringer, Gordon Bell 1934-2014, Blimey! It's Another Blog About Comics!, 18 February 2014
Online reference
[
]